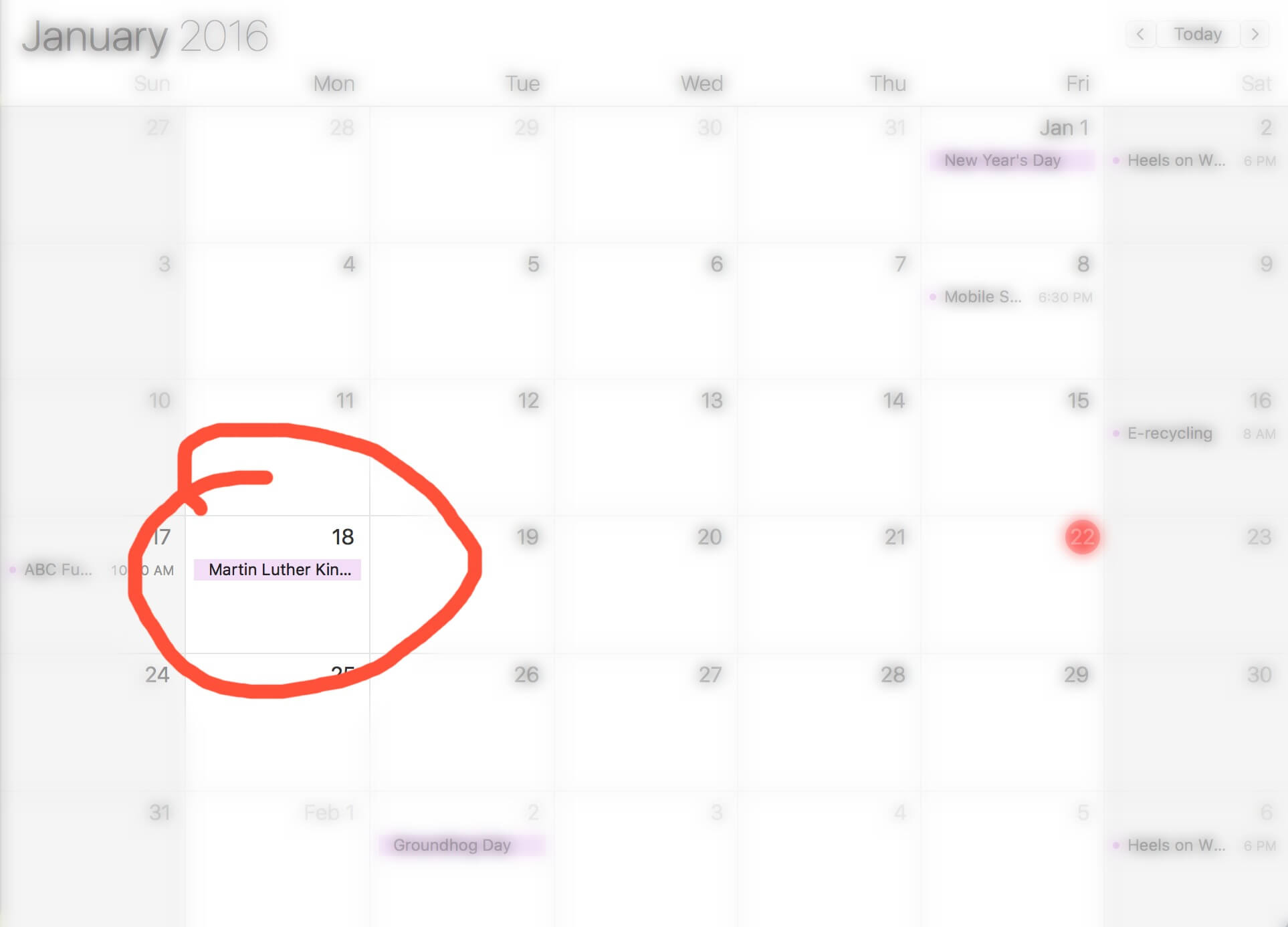 Inappropriate Social Media Posts, Marketing & Promotions
Hooray, a bank holiday! Loads of people are off of work, and brands start pumping out the social media posts, sales and offers to commemorate the day. But is that appropriate in all cases? No, it is not. And we, in turn, find ourselves with a load of inappropriate social media posts in our timelines that leave us with not-so-nice feelings about the responsible brand.
You need to use some common sense here when determining if you should send promotional messages on a particular day. It will depend on your customers what is appropriate for each holiday. A good rule of thumb is that if there is any tragedy involved in the celebration or commemoration (9/11, MLK Day, etc.) don't do any self-promotion. No sales or special deals. Because it will probably backfire on you.
Get your MLK Meal Deal right here!
This post started percolating because of a post I saw on Instagram on Martin Luther King, Jr. Day, which just passed. Someone I follow on my personal account posted this screenshot of a text offer they received from a local restaurant: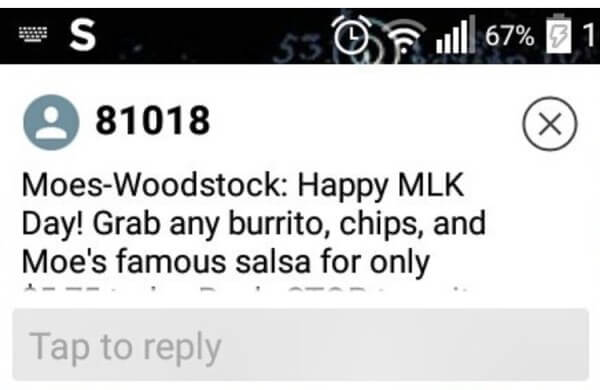 The person I follow posted this screenshot to 1300+ followers with the comment "Don't really get the correlation, but thanks." And I have to agree with him. "I'll take the MLK Day Meal Deal" just sounds wrong. Very wrong. At best people are going to think it's out of place like this poster. At worst, they could get quite a bit of flack on social media for something like this.
What could they have done instead? Post a quote on social media. Share what your company is doing for the National Day of Service and ask your followers if they are participating and what they're doing. It's not the time for a special promotion.
Just to see what other brands were doing, I spent some time scrolling through #MLKDay on Twitter. Nothing I saw stood out as distasteful. People are learning!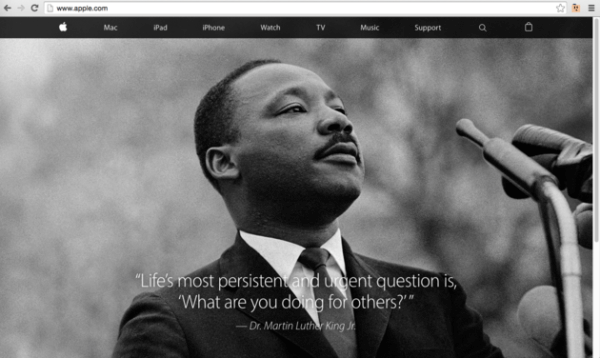 One brand that did get some flack though is Apple. They replaced their usual homepage on MLK Day this year with a photo of Dr. King and a quote. However, Apple is known for their lack of diversity. Their board made up mostly of white men even voted earlier this month against a proposal to bring more diversity to their senior management team.
From bad to worse
Even though brands seem to be avoiding inappropriate social media posts for this year's MLK Day, we don't have to go back very far to find some shameful examples of "OMG what were you thinking!" posts.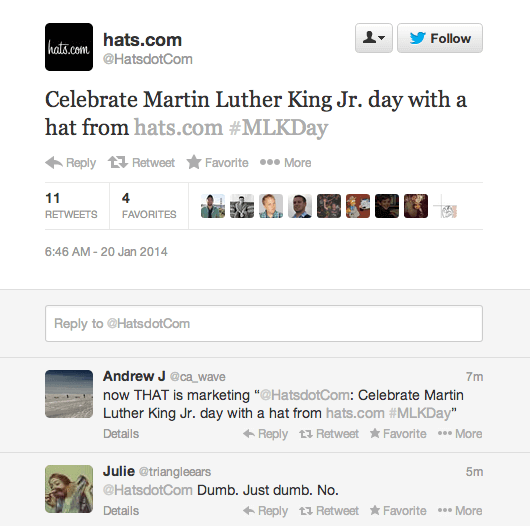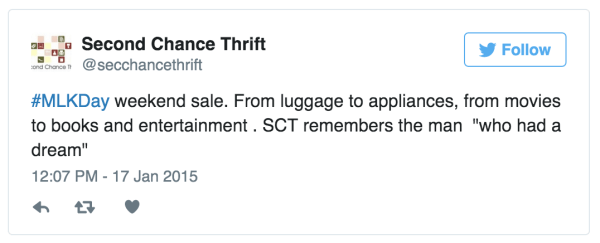 Those are distasteful, but this one is really over the top. An apology was issued, of course. But seriously, what were they thinking?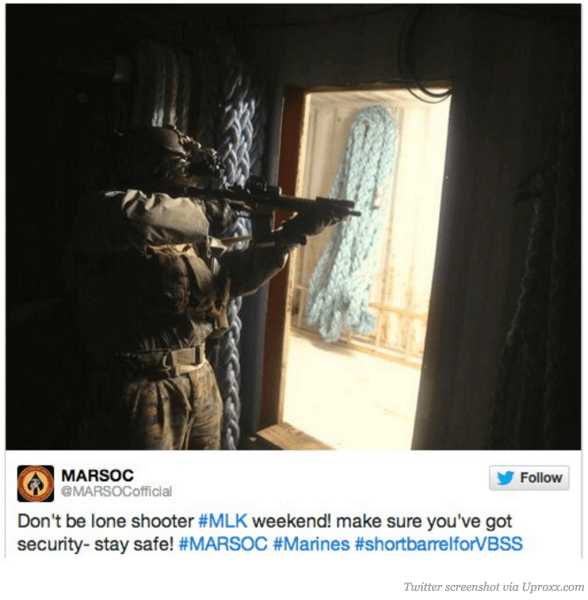 A Positive Example
Sometimes, the best way to avoid inappropriate social media posts is to take a time out. Canon did this on Facebook a couple of years back, and their followers reacted positively.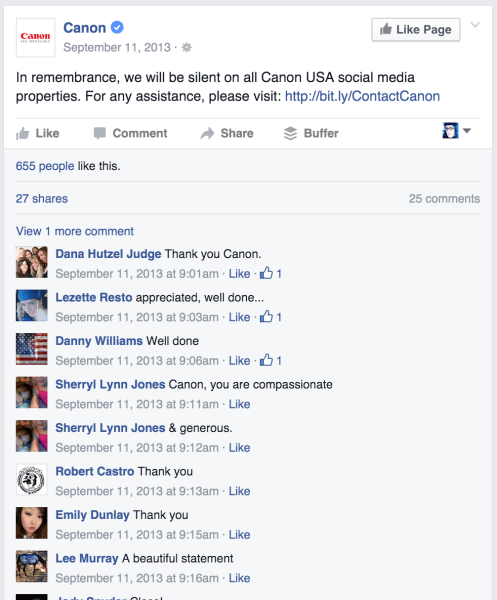 Anyway, the point of this post isn't to shame a bunch of brands but to help less experienced social media managers recognize what is and isn't appropriate to post. When in doubt, try running it by a few friends in private to get their input. An outsider's perspective might save your brand from embarrassment and lost customers.
Update: You should also check out this related post by Jay Baer: 3 Rules for Dealing with Death and Tragedy on Social Media. Plus, I've written about the topic of social media posts and tragedy before: How to Handle Social Media When the SHTF.