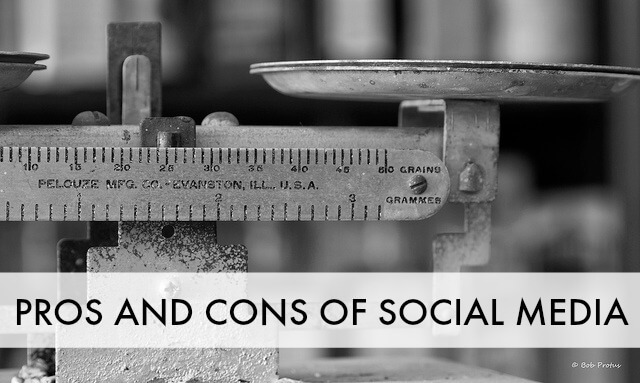 Pros and Cons of Social Media for a Small Business
Social media can be a worthwhile investment for your business, but there are some things to consider. While, on the surface, it may seem like free advertising, you can do damage to your company if you don't do it right. Let's look at some of the pros and cons of social media for your business.
Pros of Social Media Use
Your customers and clients are on social media. For instance, 52% of online adults now use two or more social media sites. Follow that link for more information from Pew Research on the various social media platforms.
95% of millennials expect businesses to have a Facebook presence, so it's a good idea to be there!
Social media is more affordable than traditional advertising. Your company can have a broader reach at a lower cost.
Honest feedback from customers. If you employ social listening and monitoring, you will be able to keep on top of the good and bad information about your business online.
Doing social media right can put you above your competitors. Being in your customers' social stream regularly keeps you top of mind for them.
If you interact with your customers on social media, you will develop a deeper bond with them. Give them good customer service online just as you would in person and you not only impress that person but anyone else that sees the interaction.

Instantly communicate time-sensitive information to your customers. Tell them about road closures because of a race, that you have to close early, that you have a new special, or you have a one day sale on an overstocked product.
You can highly target ads to the exact customers you want to reach. People give up so much information on social media, especially Facebook, that it's easy to get in front of your exact target customer.
Learn more about your customers. By seeing which of your posts they like and interact with you can get a better feel for your customers' likes, dislikes, wants and needs.
Drive traffic to your website and brick and mortar business.
Extend the reach of other marketing strategies like print, radio and TV. 
Become part of the community. Share posts about and for the community of your customers, not just posts about you and your business. It establishes you as part of the group or neighborhood and gives you more things to post.
SEO benefits. Posting on social media, especially Google Plus, can help you appear higher in the search.
Cons of Social Media Use
You must manage social media consistently. You can't "set it and forget it" and expect to be successful. You must update your social media accounts regularly, or they might be damaging to your business.
Social media sites are "rented land." The site owners can change the rules at any time. Facebook and how they now greatly restrict business posts in the news feed now is a great example of this. Companies that put all of their efforts into Facebook instead of a website they control now have to scramble.
The ROI isn't instant. Social media is a slow build and should be considered an investment like branding.
Social media isn't free. There is a real-time cost to managing accounts properly. And you may have to buy ads to reach your intended audience on some platforms, like Facebook.
Social media is constantly evolving. Networks go in and out of favor. Best practices change. You need to keep up with this information.
There is the possibility of adverse publicity. A disgruntled customer can write on your Facebook wall, call out your company on Twitter or leave a terrible Yelp review. You need to have a plan in place for handling these if and when they happen.
Keeping up with consistent, quality social media updates requires a certain amount of creativity. 
Someone can hack your social media accounts. Being hacked can at best just be an inconvenience or at worst spread damaging or embarrassing information about your company, even if it is untrue.
Hopefully, these pros and cons of social media will help you determine if you want to use it for your business. If this all seems overwhelming but you know you want your business on social media, maybe we can help.
Do you have more pros and cons of social media to add to the list? Let us know in the comments.