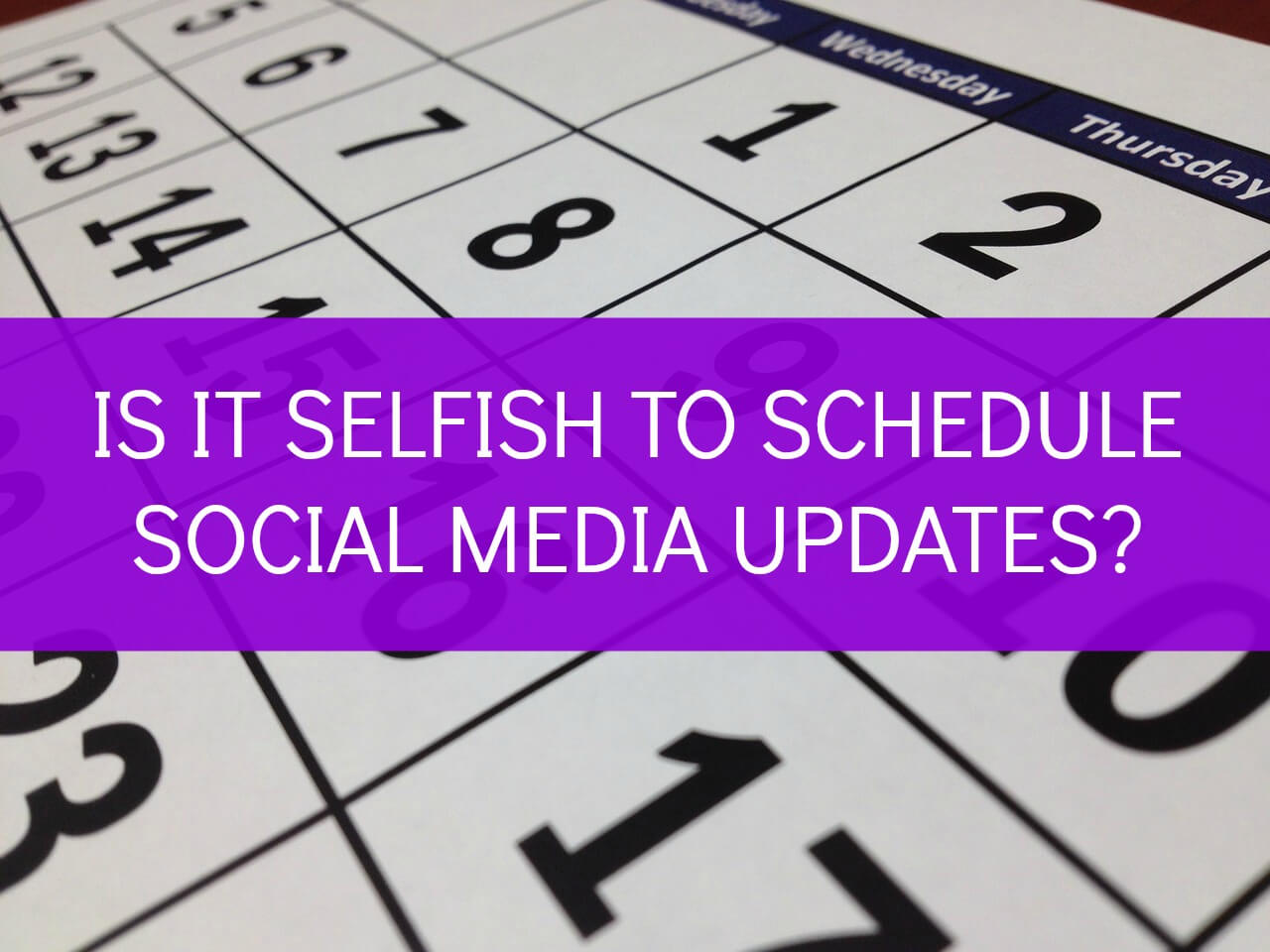 Is it selfish to schedule social media updates?
Saturday while cranking out baked goods for the case and a holiday party we were catering that evening, I worked my way through a bunch of podcasts. It makes me feel like I'm getting something done, still learning, keeping up with the world. I listen to a broad mix of things: political, vegan, business and social media related topics. Quite an assortment.
This Saturday, I listened to the December 4th episode of the Marketing Smarts podcast.  Kerry O'Shea Gorgone had on Scott Stratten, author of QR Codes Kill Kittens. Marketing Smarts podcasts are always informative and well-presented, but this one was particularly entertaining. Kerry and Scott had a playful rapport that keeps these kinds of podcasts from getting dry and boring.
While I couldn't agree more about much of the silliness involving QR codes and marketing, there was one point in the discussion that hit close to home. Scott is greatly offended by scheduled posts on Twitter. And he's doubly cranky about cross-posting. And heaven help you if you don't take time out every day to pro-actively interact with your followers. But I wouldn't be able to manage if I didn't schedule social media updates!
Let's start with scheduled posts on Twitter. As a small business owner that is also working in the business and managing the social media, I'm likely to be wrist-deep in the dough during ideal posting times for our followers. Or asleep. There are various announcements and links that I schedule in advance at my convenience out of necessity because the other option is that those posts would not happen. Now, I also sprinkle in live posts throughout the week as time permits and as there's something to share. Such and such just came out of the oven, time-sensitive retweets, etc. Would it be better to post everything live? Maybe. But not if I have to sacrifice having goods to sell to get that done.
Scott's argument against cross-posting was that it annoyed him when he followed someone on multiple accounts and saw the same content multiple times. What he needs to remember is that not everyone follows every account of every user they follow. Your small business customers are probably not as excited about social media as folks in the working in marketing. And even if they do follow you on, say, Facebook and Twitter, Facebook is only showing them a fraction of your updates, and if you follow a good number of accounts, it's easy to miss many posts on Twitter unless you're constantly scrolling through it.
Now all that said about cross-posting, if I have the time, I try to make each post suitable to the network. I remove hashtags from Facebook posts since they seem to harm your reach, get more descriptive on Facebook and Google Plus posts and even occasionally optimize images for Twitter. And sometimes I do none of those and send the same thing to all three. Since I use Buffer for scheduled posts, it's easy to drag around the order of posts so that they don't hit all three networks at the same time. But the point is, if all I do is schedule posts once a week, it's better than nothing at all.
Yes, I'll admit it. I'm terrible about pro-actively interacting with followers on the bakery accounts. I always do like, plus one or respond to anything posted at us or mentioning us. On Instagram, I follow back public profiles that appear to be legitimate and scroll through them every once in a while and interact with a few. On Twitter, very occasionally I'll go through and looking for posts of interest to favorite or retweet. But if it's not "enough" too bad, it's what I have time to do.
Managing social media can feel like an overwhelming task for a small business owner, especially when someone scolds you for "doing it wrong." It's better to get in there and do the best you can. Focus on giving your customers information that they want, not just selling to them and most importantly keep on top of customer service. People will ask you direct questions via social media. If you have a smartphone, make sure you have your accounts set up to alert you to mentions on your networks.