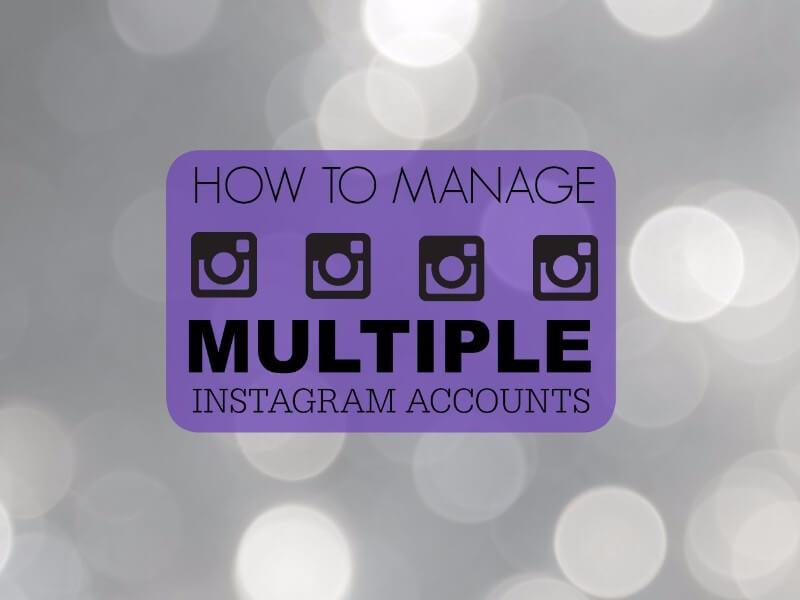 How to Manage Multiple Instagram Accounts
UPDATE: Hey, this post just became moot as multiple account management rolls out to Instagram users. Yay!
All the recent changes to Instagram have me wondering – why haven't they given us an easy way to manage multiple Instagram accounts? Many business owners have at least two accounts, their personal one and one for the business. Being able to post photos with different orientations doesn't solve your problem of having to log in and out of each accounts to manage them.
Now, as I've posted before, I cheat a little. Scheduling Instagram posts keeps me sane while managing multiple accounts. But that system doesn't alert me to comments and engagement on posts. Up until now, I've relied on Iconosquare for that. Which means logging in and out of each account, but at least it can be done on the desktop.
But I don't do that as often as I should. What I really want are push notifications, especially of comments. So I started digging around a little bit and found an iOS app called Fotogramme.

Fotogramme Features
Fotogramme lets you easily switch between multiple accounts. No, you can't post to Instagram with Fotogramme. But it does have some other nifty features:
View photo and video stream for each account
Like and comment
Follow and block users
User list of who doesn't follow back you
User list of followers whom you don't follow yet
A place to follow your favorite users and hashtags
User search and hashtag search
Oh, and it's free. There are two add-ons you can purchase in-app. You can get rid of ads for $0.99. And you can increase NewsChecker accounts for $0.99. In the free version, you will only get push notifications for the selected account. But if you want to get push notifications for up to four accounts at a time, buy the second add-on.
If you are only managing two Instagram accounts, you don't even need the second add-on. Keep your official Instagram app logged into one of your accounts and then have the other account selected in Fotogramme. Or if you want to do all of your commenting and likings in one place, $0.99 is totally worth it.
Screenshots of Fotogramme
Let me show you a few screenshots of the Fotogramme app.
This is the account switching screen. At this point, I've added two accounts, my personal and business account. The ad is out of the way at the bottom of the screen. Click on each account to select it. Your notifications of new likes, comments, etc. will appear in the news section.
Just a moment ago as I was looking at the account list screen with a total of five accounts added, I got a notification of a new follower in one of the accounts that weren't currently selected from the NewsChecker. Neat! (Note: I kicked down the $1.99 for both add-ons so I can monitor 4 accounts simultaneously.)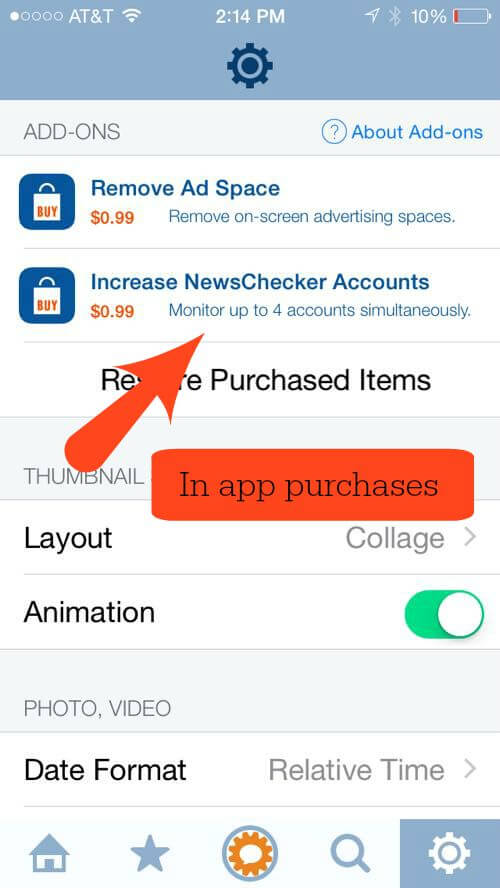 When you poke the "i" for info next to the account name, you get a profile screen with your bio, follower count, following count, posts, etc. Poke the three dots in the upper right-hand corner and you get more options. "Followers you're not following" and "Followers you're not following back" are both really nice to know!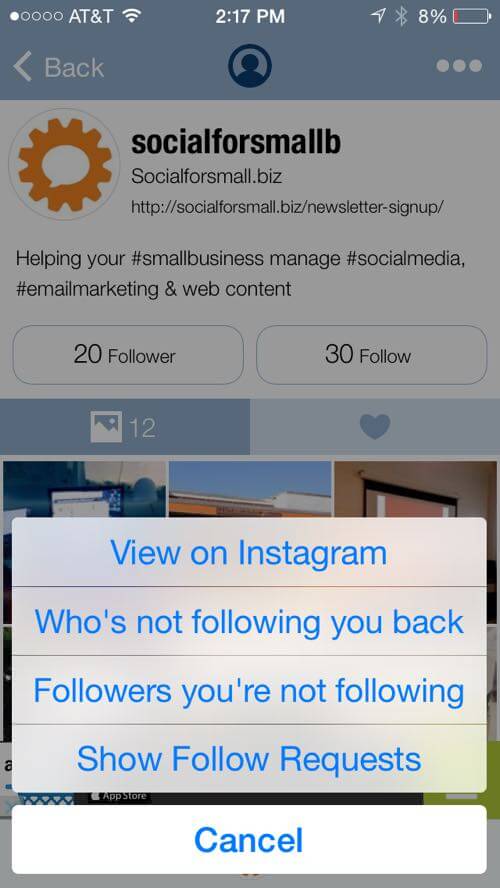 This is the "followers not following you back" screen. Here you can quickly unfollow accounts if you like. The sad face at the top is a nice touch. There are happy faces on other screens.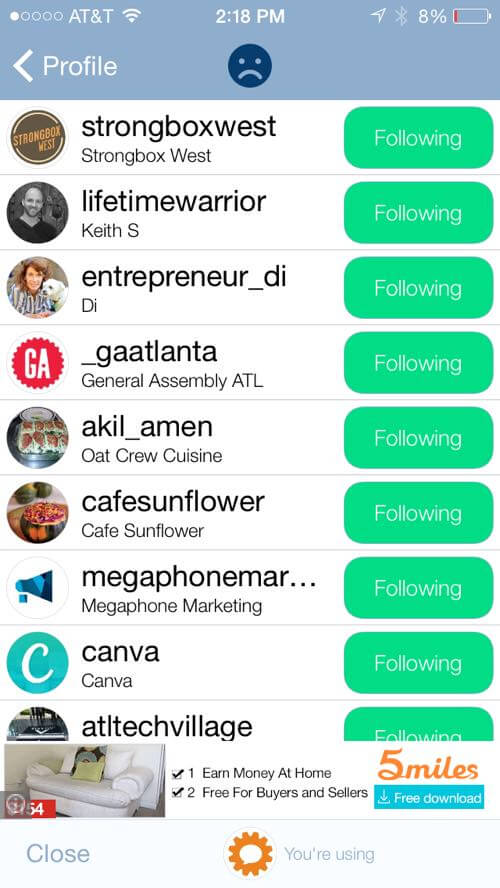 (Whoops, better charge that phone!)
So that's just a little quick introduction to this app. There are other similar apps, but I haven't tried them. That linked post was written almost a year ago, so some of the information might be outdated. This app to manage multiple Instagram accounts has been updated very recently, so I felt pretty good about trying it out. I wouldn't consider this post a recommendation at this point since I have only been using the app for a couple of hours, but it may be a good solution for you and for me until Instagram builds in fast account switching.
UPDATE: After using Fotogramme for a few days, I've got a couple of updates.
There is a push notification, sort of. Once or twice a day, I get a notification that "There is news for account name, account name, account name." It doesn't say if the accounts have likes, new/lost followers, or comments. When you get to the news feed, it will refresh when you open it. You'll get a list of activity on each account, mostly post likes and new/lost followers. Sometimes you'll get notifications of comments, but it also misses a lot of these.
UPDATE 2: Now that it has been more than a month since I installed this app, it turns out that I don't find it that helpful. What I really wanted was to get notifications in real time when people interact with the logged-in Instagram accounts. In reality, I may get a notification once a day, if I'm lucky. Oh well, it was a nice idea.
Are you willing to jailbreak your iPhone? Then We Are Social Media posted another solution that might be a bit more useful.
Do you struggle to manage multiple Instagram accounts? Does the constant logging in and logging out keep you from being as engaged with your followers? Hopefully, this will help! And if you've discovered another solution, please share!
P.S. I don't know the folks behind Fotogramme and I'm not getting anything from them. This is just me searching around for a better way to do things and then sharing it with you.