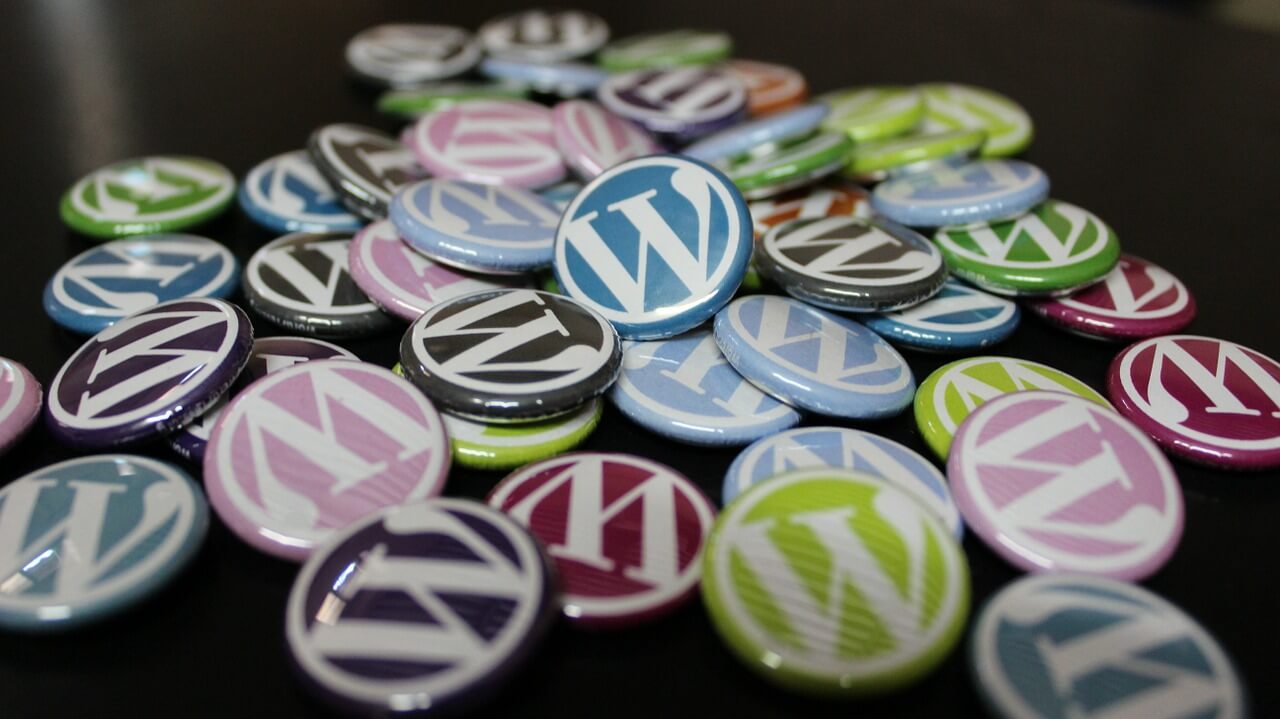 Does my small business need a blog?
It's been a little over a week since I attended
Digital Summit 15
in Atlanta. I've finally been through all my notes, and I'm ready to start sharing the highlights with you!
My recap of the event will likely take several blog posts. I soaked up so much information given in the two days. This post will focus on the Content Marketing Workshop before the main conference began. Quinn Whissen from Vertical Measures was an engaging presenter, and I've got a pile of notes to share.
Why Does My Small Business Need a Blog?
Yes, yes it does. (First, I'm assuming you have a website. If you don't, get one, you need it.) That your business needs a blog was my main takeaway from this workshop. Not only does your small business need a blog, but you need to update it regularly. Doing so will reward you.
Companies that blog 15x per month get 5x more traffic to their site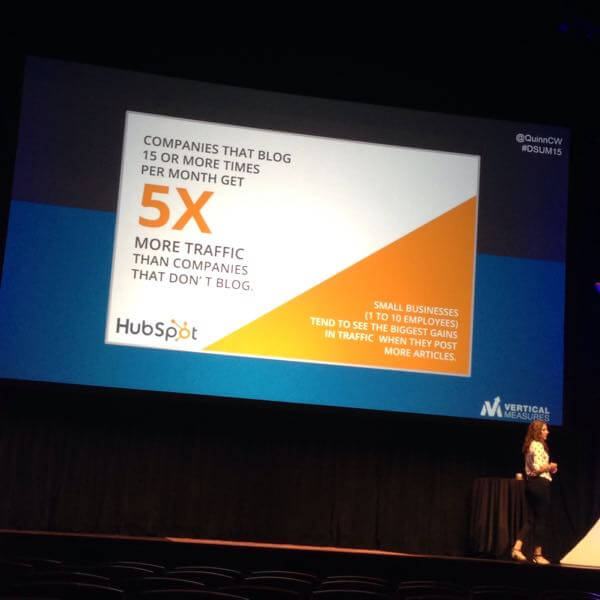 That's huge, right? Okay, I don't expect you to click away and to install WordPress on your website based on one statistic. So I'll throw a few more at you.
93% of all consumers use search prior to making a purchase
86% of searchers conduct non-branded queries
90%+ of buyers click on organic links vs. the sponsored ad
Just about everyone does it. People go online and research products and services before they buy. They look at general information about their purchase, reviews, comparisons and more. By the time they talk to your company, they have a good idea of what they want.
Content Marketing is about being the giver of information, not just the seller of products and services.
Need more? How about some case studies.
Case Study 1 – River Pools and Spas
Okay, here's a great example of a business owner that turned around his business using content marketing. Marcus Sheridan's pool business was in trouble. River Pools and Spas was in trouble. So Marcus started adding tons of informational content to his company's website. Click over there and you'll see all the information you need to make an informed decision on buying a pool.
Because Marcus' company has all of this content available, when people research their pool purchase online, his site comes up, again and again, building brand awareness and trust.
How well did it work? Just one article got them $1.2 million in sales. If you'd like to hear more, Marcus talks about his content marketing success on this episode of the Social Media Marketing podcast. It's only about 30 minutes and worth a listen. Or, if you prefer to read, try this interview post on Copyblogger.
Case Study 2 – Bill Belew
I lied. Bill offers you several case studies showing outstanding results from content marketing.
The first three cases are from his clients, a weight loss retreat company, a doctor and a professional speaker. All three already had sites in place, so the results came pretty fast for content marketing, in about 12 weeks.
The last three were from students in an MBA-level class Bill taught, Marketing with Social Media. The students started with nothing and built the websites in the course. They were told to write sixty short posts per month. That's a lot of blogging!
It took a while longer, but these sites all saw increased and sustained traffic after five months or so. Starting from zero. You can see in each chart the point where the blogging finally paid off.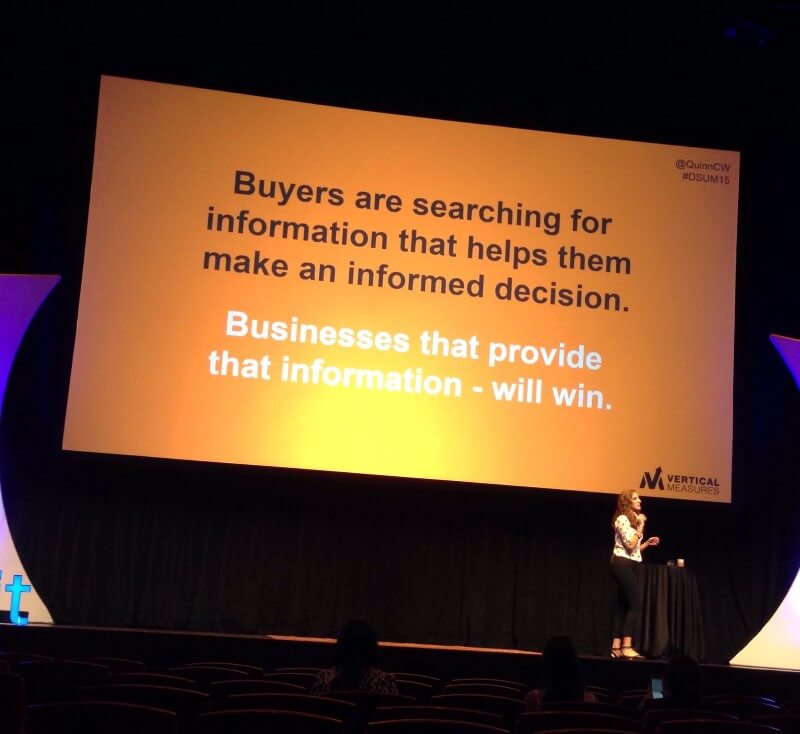 Okay, 60 pieces of content sound overwhelming. But remember the statistic above. Blog 15 times per month and get five times the traffic of companies that don't blog.  Maybe blogging is what will give your small business an edge over your competitor.
What Do I Blog About?
If you're not used to writing, this one can stump you. But it doesn't have to. Here's a list of ideas to get you started.
FAQ – Let's uses Marcus' example of frequently asked questions. Have everyone that works with customers and clients come up with as many questions as possible. These issues should keep you busy for a while!
Comparisons – Compare the pros and cons of two of your products
Industry News – Weekly or monthly curation post of industry news
Interview experts in your field. You can even do these interviews by email.
Guest posts – example: a grocery store might have a food blogger guest post and share a recipe
Weekly specials – restaurants, post your weekly specials, but go in depth on why you are featuring these dishes (seasonal, local farms, guest chef, etc.)
Tutorials – show your customers how to get the most out of your products
Lists – people love lists! For example, a sporting goods store could post the top 10 places to go canoeing within 50 miles
Trade shows – share the latest and greatest in your industry from any trade shows or events you've attended
That should be enough to get you started. If you need more post ideas, these
101 blog post ideas
should keep you writing until the end of time.
By now you should be answering, "does my small business need a blog" with a resounding yes! So are you going to start one? If not, what's holding you back?
P.S. I'm going to add a little pet peeve here. It used to drive me nuts when I worked for a media company and heard the old school journalists make this mistake. A blog is a collection of blog posts. You might start a blog for your restaurant. But you would write a blog post about your recent visit to the farmer's market. Right? You're writing a blog post. Not "I'm going to write a blog about that." Got it? Good!