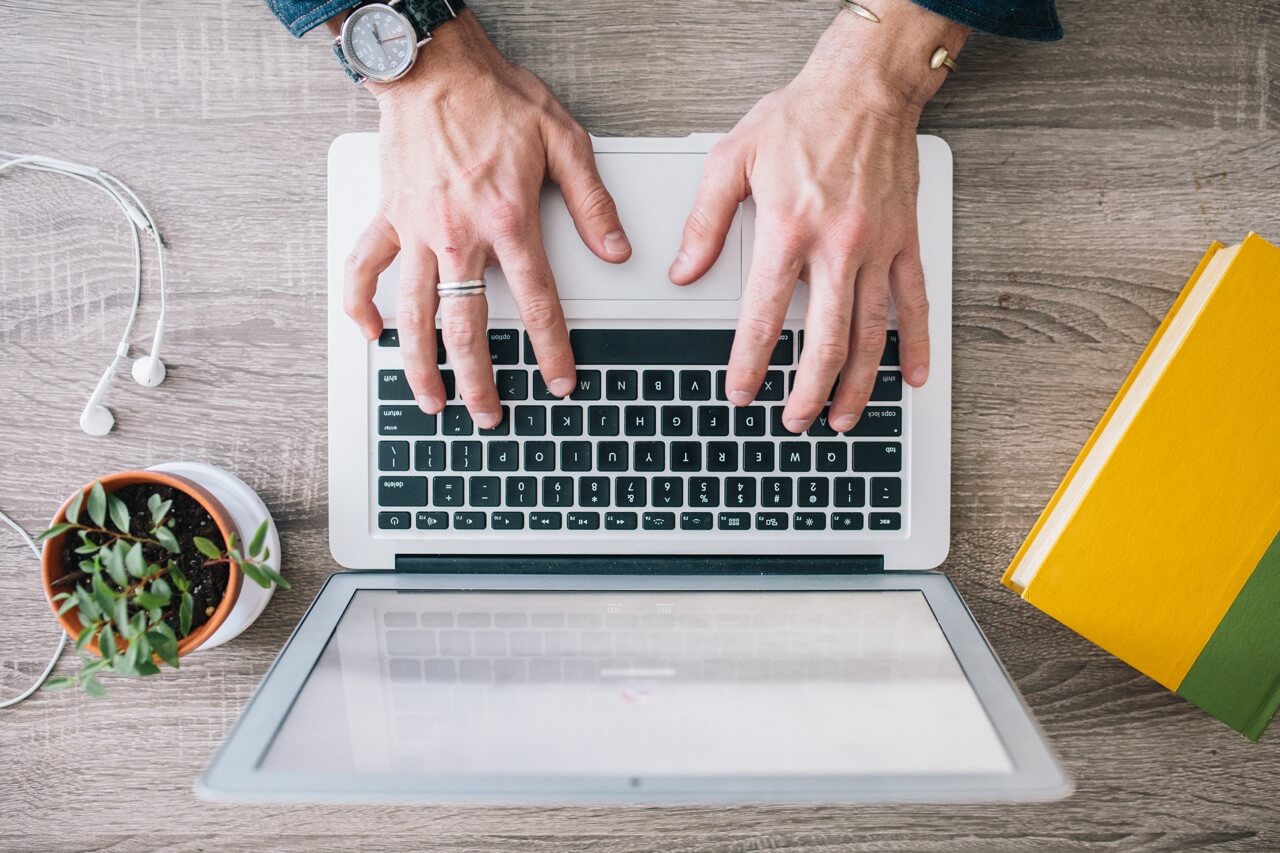 Learn From My Tale of Bad Online Customer Service
Today, I'm going to write from the other side of online customer service. This story will illustrate how it took me three tries via three different methods to reach a brand and get a response to a customer service question.
My Stupid Foot
I have plantar fasciitis. That means I have terrible heel pain in my right foot. It had developed before we opened the bakery. And thankfully, it was cleared up before we opened. It took more than months of injections, orthotics, night braces, and physical therapy. But I was motivated to get it cleared up before I knew that I would be standing for 12+ hours a day baking.
The second part of having plantar fasciitis is that you can't just wear any old shoes. After reading up online to see what kind of shoes other food service workers wore, clogs were the most recommended option. I found two brands with vegan options (I don't wear leather) and bought them. And through two years of long hours of standing, I never had the heel pain come back.
But, after the bakery closed, I got lax. I'd wear my Vans or other shoes with less support, sometimes without my orthotics. And the plantar fasciitis came back. Dang it. Both pairs of clogs I'd used for work were pretty wrecked. I'd even gotten rid of one of them. So I started wearing the others, but they looked terrible.
Finally, the Online Customer Service Part of the Story
I went online to order a new pair. One of the companies no longer makes any vegan clogs and the other one, my favorite, doesn't currently have any plain black ones in their line.
Now we're getting to the customer service part. I emailed the second company at the address given on their website ([email protected]) and asked if they were going to start making black vegan clogs again or if they knew where I might find old stock that I could buy. Crickets.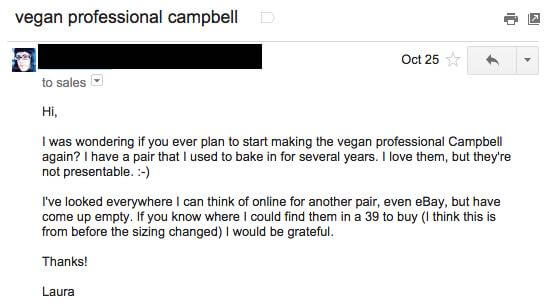 After no email response for two weeks, I took to Twitter. They have an account and post once or twice a week. Nothing. No response.

Okay. Now what. Facebook! The company seems to be responding to people there, but for me, Facebook is the last resort. I don't maintain a personal account. So I had to post on their wall with my business account. And I got a response this time, now that three weeks have gone by since my first attempt via email.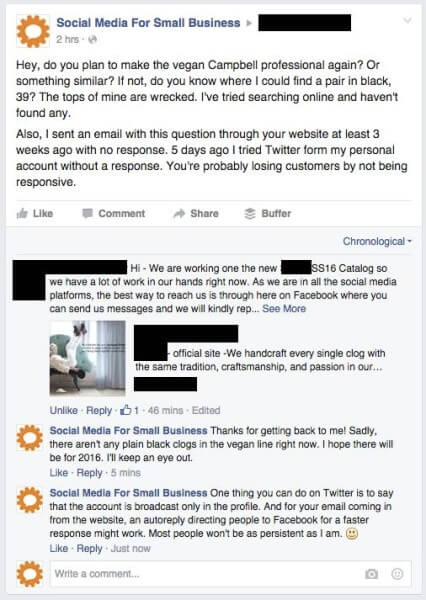 Of course, I mentioned my lack of reply by email and on Twitter when I posted. And their excuse was that they are busy working on their 2016 catalog. Just for giggles, I searched around to find out how many employees they have. According to their Linkedin profile, 51-200. Big enough to have some dedicated customer service people. But somewhere their system has broken down if no one is answering emails.
The marketing department might handle social media, and they may indeed be tied up with the catalog. I should have expanded their response above before I took the screenshot. Their excuse for not responding on Twitter is that they don't monitor Twitter, they only post.
Ugh, that's not how social media works! At a minimum, check the Twitter notifications once a day and respond. And if you're dead set on using it as a broadcast-only medium, say that in your profile and point people to a place that you monitor, for them, Facebook.
Now I'm going to go off on a little Twitter rant. Five of their last ten tweets are automated posts. You know the ones.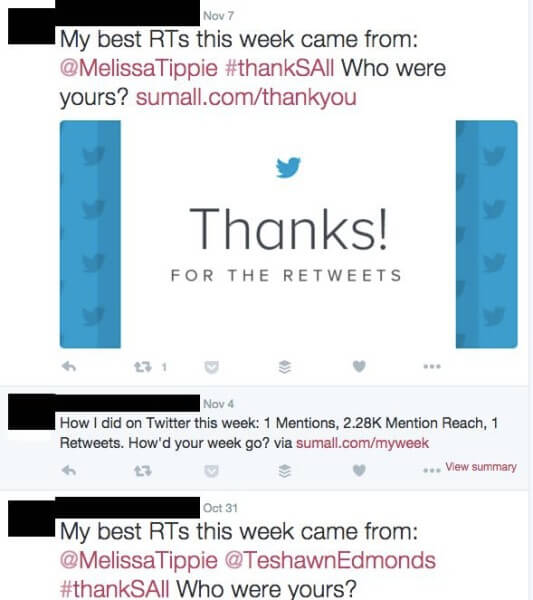 Yes, that's a full week of automated content right there. These sorts of automated tweets are annoying on a good day. No one cares how many followers you lost or gained. And your primary interactors would much rather receive a personal, not an automated, thank you. If you are active on Twitter, though, these automated posts are spaced out and don't look as bad. But when you barely use Twitter and then only as a broadcast medium, it looks terrible.
And as for the lack of response via email, at the very least they could put an autoresponder in place. Let customers know that they will get a faster (or any) response via Facebook.
So do you see how bad this looks from the customer's point of view? The point of this post isn't to shame this company, which is why I blacked out their name, but to show it as a learning experience for you.
Tips For Good Online Customer Service
Respond. Get a system in place for checking all of your points of contact on a regular basis. For small companies, maybe that takes 15 minutes a day. Larger companies may have dedicated staff to do that.
Inform. If you must use an account as broadcast-only, state that in the profile. If the account is only checked once a day, say that. Let your customers know what to expect. If you have a preferred method of contact, say that on your website.
Remove. If you know that no one checks the email account listed on your website, remove it. If non-responsiveness is temporary, add an automated response directing them to the place where they will get a reply.
Choose Wisely. Be active on social media accounts that make the most sense for your brand.
Online Customer Service By The Numbers
And finally, these statistics should make you sit up and take notice. Failing at online customer service will lose you customers and cost you money.
Does your company struggle with online customer service? What are your biggest challenges?